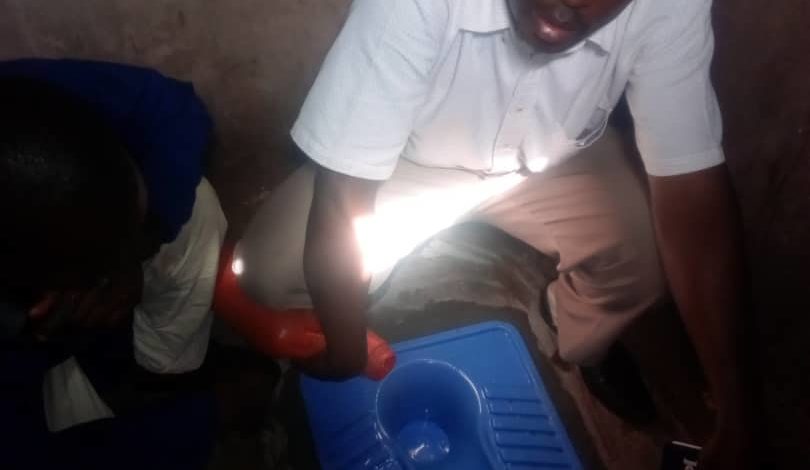 SATO INSTALLATION IN LUBAGA
SATO INSTALLATION IN LUBAGA
A team from Alliance Water Solutions led by the Executive Director Mr. Fred Muwanguzi and the Sanitation Promoter Ms Apophia  Namunana inspected the works of Mr. Emma Mukaaya one of the masons who installs Sato products within the Organization.
The team first visited the home of Mr. Mugoya Kanani one of the Sato flex pan beneficiaries before carrying out door to door sanitation promotions. His home is located in Mpumudde division, Rubaga zone, Jinja district. The installation was done as a result of his discussion with our sanitation team while in the field about the increasing challenge of the smelling latrine that attracted many flies living his home in a mess.
The interaction of the team with Mrs Aliyinza Mugoya revealed that they were very happy and the installation was carried out according to the described standards she said "I really thank Alliance Water Solutions for bringing this smart and hygienic product to our homes and I appeal to other members of the community to adopt the new smart technology for better health and hygienic family. I promise to pass on this information to other members of our community"
She further revealed the advantages she had observed if one uses a Sato Flex pan.
The latrine looks smart and attractive.
The pan closes quickly and automatically to seal off bad odor
It seals tightly to block house flies/ cockroaches from the pit.
It requires less water while cleaning the pan.
It is also safe for children because it's always closed and the hole is small that no one can walk in and fall inside the pit.
Our domestic birds cannot fall in the pit anymore.
She concluded by thanking Alliance Water Solutions for improving their household sanitation and hygiene.
The team was impressed by the lady's comments and the Executive Director said that, "Few people take time to improve on their own sanitation, they always want to be given free services but this home  has paid for their own services, an indication that they will keep it clean hence improved sustainable sanitation". We visited other homes and people were promising to construct modern latrines and install the Smart Fresh Toilets.
NAMUNANA APOPHIA
SANITATION PROMOTER
Steps for Sato flex pan installation
Step 1. Pit assessment
Step 2. Pit assessment
Step 3. Preparing the pit for installation
Step 4. Under installation
Step 5. Installed
Step 6. cleaned
Step 7. Ready to use being tested